21 Best Party Dresses Singapore
Party dresses can be worn year-round and suit a variety of occasions, including birthdays, nights out, milestones and celebrations, which is why having at least one perfectly flattering dress that fits your unique style is a wardrobe essential. Online shopping has now made buying party dress online in Singapore cheaper and easier than ever, offering different budgets and styles that are easy to compare. A simple way to save money is to head online to find that perfect party dress.
With a range of choices at affordable prices, you can buy a party dress online while you work or at home and have it shipped directly to your door. You don't need to stress about where to find the perfect party dress online in Singapore either, because below we've reviewed the 21 best party dress Singapore.
Cut Out Wrap Party Dress
Your skin becomes your most prominent accessory in this head-turning wrap dress, with side cut out detail to emphasise your curves and hips. The asymmetrical neck and hem line add more striking features. This dress is ideal for women with an hourglass shape as the wrap skirt and close-cut bodycon fit accentuate the waist and hug your curves.
Miss Selfridge Lace Skater Dress
The fun, feminine look of lace contrasts well with the casual fit of this skater dress, emphasised by the contrast lining. Perfect for woman with pear figures, the fit and flare shape floats over hips, while the round neckline and long sleeves add a demure quality. This versatile dress can be worn to either casual or formal parties, and adds a timeless quality to a more relaxed look.
One-Shoulder Maxi Party Dress
Perfect for formal events, this elegant pastel maxi made from thick stretch-fabric looks both effortless and classic. The one shoulder design, thigh-high split and slim fit give it a sexy twist, emphasising the elongated lines of your body, while the exposed side zip fastening brings a touch of modernity.
Petite Floral Pencil Dress
Putting a modern twist on the classic mid-length floral dress, this pencil dress features a plunge neckline, fitted waist seam and kick split. Versatile and easy to wear, this dress can be dressed up or down with accessories, depending on the occasion.
Paper Dolls Lace Dress
This dress is perfect for those looking to bring old-school glamour to their next event, featuring all over lace and an elegant, sheer fishtail hem. The cold shoulder design is a trendy detail, without taking away from the traditional look of the dress. Classic doesn't have to mean boring either, with a V neck and back, figure-sculpting design and close fit all bringing sex appeal.
Missguided Choker Neck Asymmetric Dress
Combining two of this season's biggest trends, chokers and asymmetric necklines, this bold little black dress creates feminine movement perfect for a party dress. Featuring a relaxed, loose fit, this dress is perfect for women with apple shapes, showing off your legs through the mini design and one exposed arm and shoulder. The thick choker strap adds instant formal glamour, negating the need to heavily accessorise.
Missguided Cowl Neck Velvet Mini
Another mini party dress option, this affordable velvet dress features a smooth backing and bodycon fit. The cowl neckline is an essential style, flattering for the majority of body types, while the close fit creates an hourglass figure. The cross strap back allows you to show off a little more skin, while the floral pattern keeps the dress elegant and feminine.
Petite Velvet Cami Party Dress
Stretch midnight blue velvet and adjustable cami straps, make this dress an extremely affordable, versatile and trendy item that can be worn to both casual and formal parties. With a close-cut bodycon fit and mini design, this dress is ideal for women who aren't afraid to flaunt their figures.
Vero Moda Jacquard Skater Dress
An extremely flattering fit that clinches the waist and flares at the hips, this skater dress is made from metallic feather jacquard fabric and features a crew neckline. The detail on the fabric will make you stand out from the crowd, while the structured design gives this dress a tailored and classy look.
Vero Moda Sequin Mini Dress
Nothing says party like a sequined mini dress, and this bold zigzag design featuring a scoop neckline through to the back is the perfect party ensemble. Since this is a statement dress, it's best to keep make-up and accessories simple.
Petite Sequin Cami
Another statement sequin dress, this cami features all over midnight blue sequin embellishment for a sparkly, metallic look. Perfect for nights out with the girls or New Years Eve parties, this dress has a V neckline and plunging back, with a relaxed fit to flatter most body types.
Somedays Floral Tea Dress
An artist-inspired dress, with a floral design, deep V neckline and flattering A-line skirt, this tea dress is the ideal summer party dress. Floaty and breezy, the woven fabric creates a free spirited and effortless look.
Winslow Wrap Dress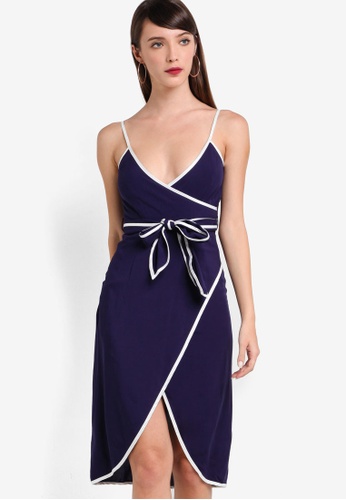 A modern twist on a simple classic, this sleeveless dress with asymmetrical neckline and relaxed fit is perfect for those with a pear shape. The tulip shape will accentuate your waist, while skimming over your hips to hug and streamline your curves and show off your legs and shoulders.
Scarlett B Black Chloe Bodycon Dress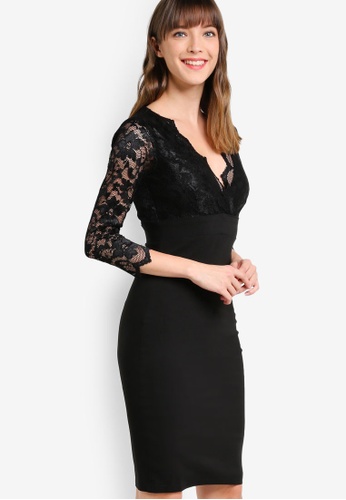 The perfect little black dress, this pleated midi features subtle details to give it a unique look, including pleated detail on the side, sheer mesh fabric and an bodycon hemline. Slim fit, sleeveless and with a round neckline, this dress shows off your figure in classy style.
Navy Velvet Strappy Skater Party Dress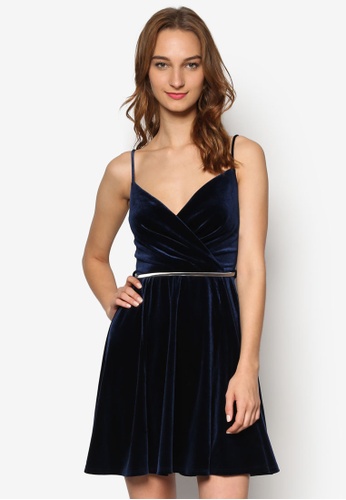 Flaunt your best assets by exposing a little bit of skin with this attention v-neck velvet strappy skater dress. This dress will definitely help you stand out from the crowd, featuring a contemporary appeal with smooth velvet front strappy detail. Ideal for women with slender physiques, this dress has an above-the-knee hemline and square bareback.
Desigual Shift Party Dress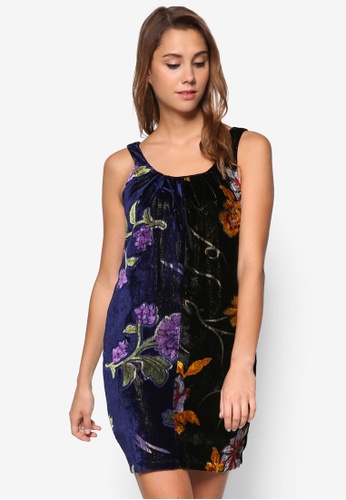 Bright and bold, this velvet shift dress is perfect for nights out, with a relaxed, short fit. This dress is perfectly on trend with velvet glamour, a scoop neckline, sleeveless design and metallic details.
MDSCOLLECTIONS Tila Dress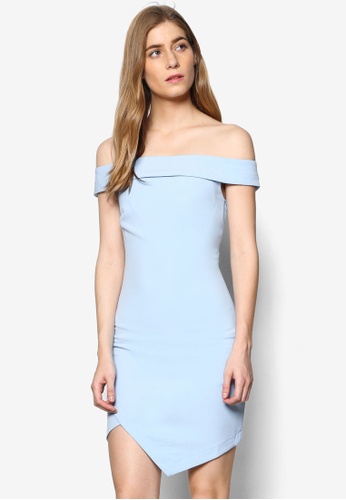 Off the shoulder dresses are extremely popular this season and it's not hard to see why, with the trend flattering all body shapes. The off the shoulder design of this dress gives an edge to the elegant and feminine design, turning it into something special. Also featuring an asymmetrical hemline and close fit, this pastel dress has a flirty, summer vibe.
Halter Frill Bardot Bodycon Dress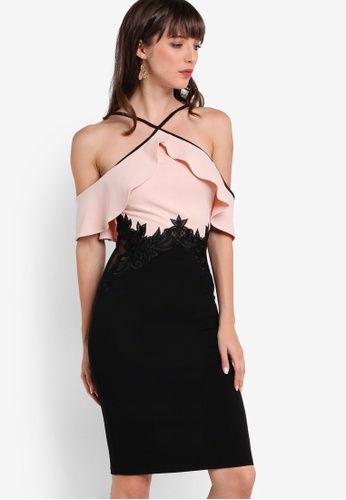 Elegant and sexy, this slim fit bodycon dress with front cross strap neckline will have you looking and feeling a million bucks. Figure hugging and curvaceous, this dress oozes femininity and class, a go-to option for a formal event thanks to the mid length silhouette.
Printed Dipped Hem Dress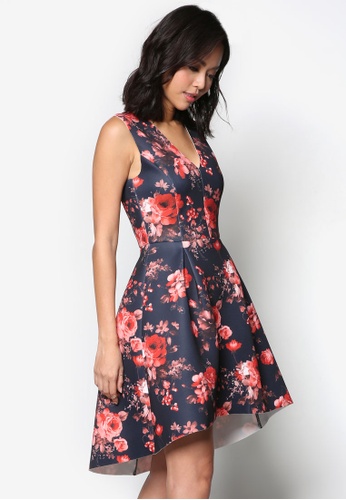 Floaty, flirty and fun, this floral printed dress features a classic v-neckline and clinched waist, while an dipped hem and semi-opened back give it a unique look. This dress is perfect for almost any occasion, especially if you're confident showing off your legs, exposing enough skin to be flirty, but still retaining elegance.
Metallic Cami Party Dress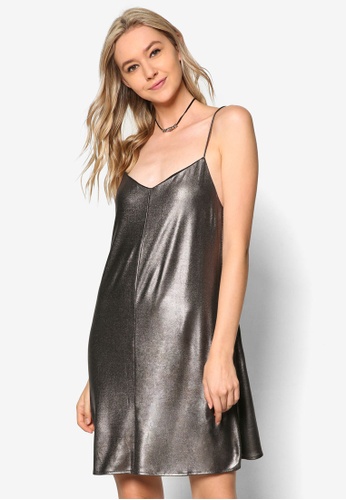 Perfect for nights out with the girls, this metallic mini slip dress will add a bit of extra sparkle to your night. Featuring a relaxed fit, A-line silhouette, V neckline and drop back, this dress is universally figure-flattering and comfortable.
Save more on your Party Dresses Online
No matter what body type you are, there are a range of flattering dresses available online to make you stand out this party season. To save even more on your online purchase, have a look for asos discount code and zalora promo codes from the coupon code section of our website. We offer the latest deals and promotions so you can create affordable and stylish party dress ensembles without breaking the bank.