20 Best Maternity Dresses Singapore
Finding out that you're pregnant is one of the most exciting times in a woman's life, but as your body begins to change and your belly starts to show, the question of what to do about your wardrobe arises. Giving up your trendy and diverse range of clothes for tent dresses is not an exciting prospect, and neither is the expense of maternity clothing.
Luckily, if you buy a maternity dress online, you can make significant savings on a range of flattering options, and you can purchase items within minutes without leaving the house.
Online stores have really upped their game in terms of maternity clothing, offering carefully designed, chic dresses to see you through your pregnancy in style.
Below we review 20 of the best maternity dresses online in Singapore that you can add to your wardrobe for pretty and practical maternity wear.
Chiffon Floral Maxi Dress
A favourite maternity dress Singapore that is designed to fit through all the stages of pregnancy, this flattering maxi with floral print, lined chiffon and sweetheart neck is perfect for the warmer days of spring and summer. It's loose fitting and breezy, keeping you comfortable and cool, plus it's dressy enough that you can wear it to events, including weddings. ASOS ships worldwide, so you can buy a maternity dress online and have it sent straight to your front door.
Midi Lace Dress
Another favourite for warmer days, this grey lace dress is ideal for dinners, birthday parties or work functions, with wide-cut short sleeves and button key hole back to keep you cool. Designed to flatter your bump, whilst also maintaining your shape, this maternity dress ends elegantly below the knees for a feminine feel.
Mamalicious Knitted Maternity Dress
This versatile dress can be worn pre and post pregnancy, doubling as a nursing dress, with a double layer for those who decide to breastfeed. Extremely comfortable, this fine knit dress can be worn casually on weekends or smartened up for work, with side splits adding a trendy detail.
Skater Maternity Dress
A maternity staple with a flexible waistband and made from stretch jersey-fabric, this affordable skater dress can be worn through all stages of your pregnancy. Stylish details, such as a twist neckline and keyhole button back fastening, keep this dress interesting and unique.
Lace Insert Bodycon Dress
With all the changes to your body during pregnancy, it can be hard to feel sexy, but this bodycon dress made with smooth, stretch fabric and sheer lace yoke will have you feeling confident and feminine. Comfort and style come together with this dress to accentuate and display your growing bump and hug your body in all the right places.
Maya V Neck Maxi Dress
Who says you need to stay in while you're pregnant? This tulle V-neck maxi with sequin embellished top is perfect for formal events, with a breezy silhouette and flattering design. Made with heavyweight, lined mesh fabric, this dress is made to last and will give you a glamourous dress with pregnancy-friendly details.
Bluebell Long Sleeve Swing Dress
The perfect everyday dress, this printed stretch jersey dress with long sleeves can be worn on warm days or during colder months with leggings. The cut out neckline and tie detail are trendy additions that give this dress a stylish look, while you remain comfortable in a swing shape.
Nursing Maxi Maternity Dress
Another everyday favourite, this maxi dress has a double layer, with crop top layer, ideal for post-pregnancy nursing. Cleverly designed, this dress is comfortable and versatile, able to be dressed up with heels or worn casually. Fashionable and functional combine in this dress, making it a maternity staple item.
Angel Sleeve Maxi
This beautiful, feminine maxi features an all-over floral print, angel sleeves and crochet applique, made from soft touch stretch jersey. This dress will flatter your new curves and keep you tastefully fashionable.
Bardot Dress
Stripes are usually the maternity wear go-to, but this spot print Bardot dress shows why different is sometimes good. Made from printed knit fabric, this dress is a close-cut bodycon fit and features an off the shoulder design to stay on trend and keep you looking stylishly elegant.
Baby Bump Olena Maternity Dress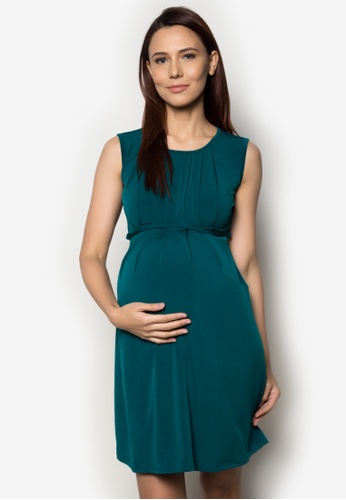 Ideal for the working mum, this dress has a swing hem and waist accent to accommodate your growing bump, while continuing to flatter your figure. Made from stretchable material, this dress is comfortable yet classy, making it perfect for everyday office wear.
Sleeveless Overlapping Dress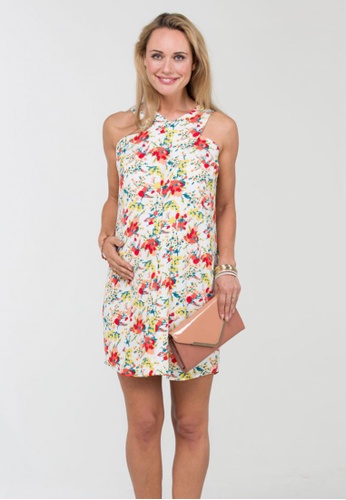 The perfect maternity party dress for spring and summer, this dress is made from woven material to accommodate your growing bump. Featuring a floral pattern, overlapping straps, mini design and a vertical nursing access, this dress allows you to show off your figure while remaining practical.
Aida Lace Maternity Dress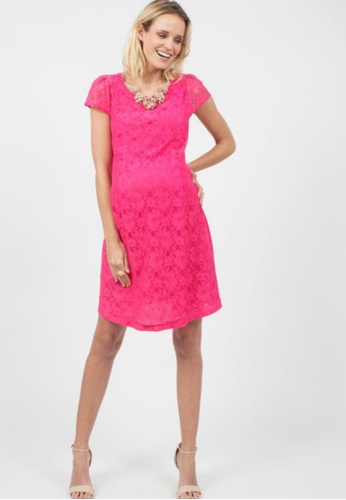 Perfect for spring and summer, this bright dress is fully covered in lace in a t-shirt style to combine chic and comfort. Featuring a clever side nursing access, this dress can be worn during and post-pregnancy.
Bettina V Neck Dress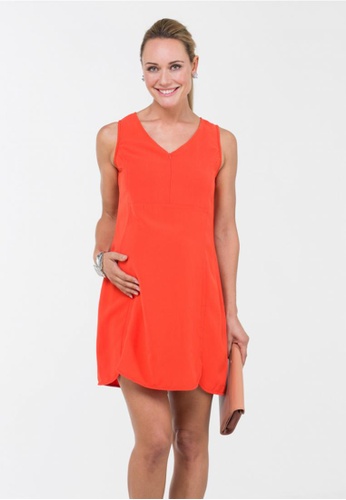 Designed to elongate your figure during pregnancy, this knitted, sleeveless, V neck dress is made from 67% bamboo cotton for extra comfort. Breathable and soft, this maxi dress is a perfect everyday item, and also features a nursing neckline (a favourite of ours).
Woven Sleeveless Dress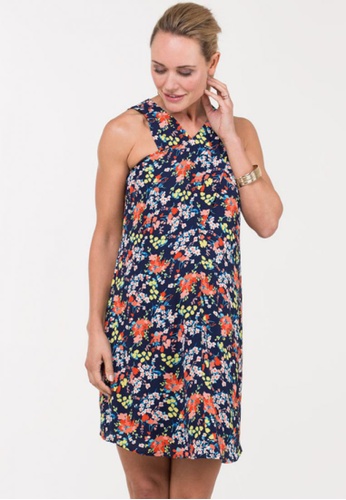 Featuring a dark floral pattern, this woven dress is a go-to for parties and events. It's designed for all stages of your pregnancy, including post-pregnancy, with a vertical nursing strap concealed in the overlapping straps on the top.
Sleeveless V Neck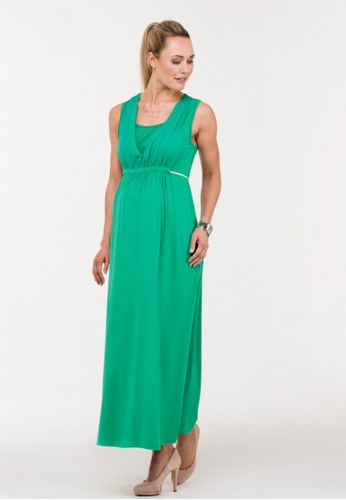 Relaxed and comfortable, this woven sleeveless dress can be dressed up for nights out, or worn casually during the day. The tangerine colour makes this perfect for warmer weather and minimal detailing gives it a unique look. It can also be worn postpartum as well, with a hidden zip opening a side nursing access.
Baby Bump Nadine Dress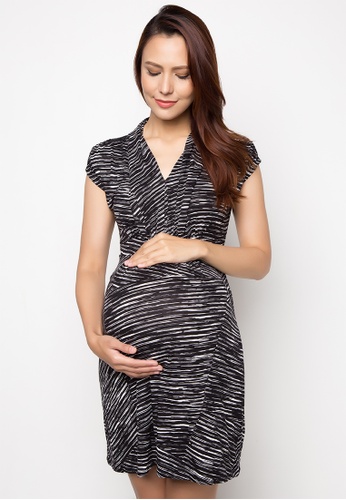 Featuring a stylish streak design, this black and white dress can be worn around the office, for date nights, or to events. The above the knee hemline, modified cowl neck, and tie back ribbon accentuate your figure and give feminine details to this smart looking dress.
Baby Bump Rissa Dress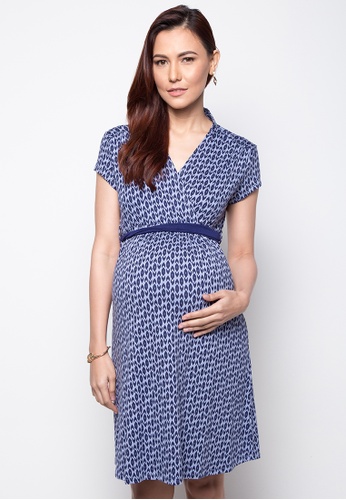 This rayon dress defies the idea of comfortable, loose fitting dresses overwhelming your bump and losing your shape, proving you can have both comfortable and figure-hugging. Featuring a waist sash to accentuate, v neckline, short sleeves and mid-length design, this printed dress highlights your bump without becoming constricting.
Woven Printed Maternity Dress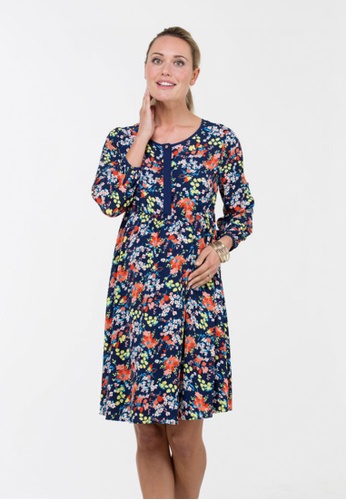 This long sleeved woven dress featuring a floral pattern can be worn during warmer months or with leggings during cold weather. The classic fit has collar and neckline piping that unbuttons to reveal nursing access. This is a perfect everyday dress that can be utilised year-round.
Baby Bump Yuri Nursing Dress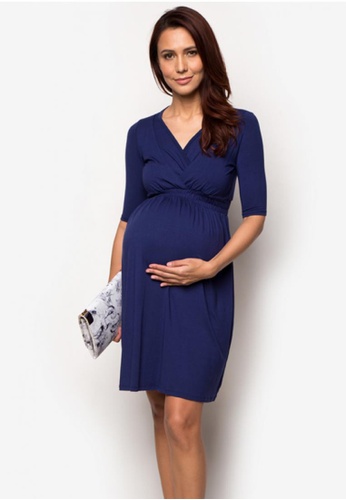 We love nursing dresses because they allow you to continue wearing your maternity wear even after you've given birth, making these items a great investment. This deep blue rayon dress is no different, featuring a casual design that moves with you to flatter your curves. The knee-length hemline and mid-length sleeves make it a versatile dress that can be worn during either warm or cold months, and an overlapping top design gives it longevity post-pregnancy.
The maternity dresses listed above will change how you feel about maternity wear, restoring your faith in the existence of fashion-forward comfortable clothing that flatters your new curves. Online shopping has a range of advantages, and these are even more prominent when you're pregnant, allowing you to shop affordable, versatile options without the exhaustion brought on by large shopping centres.
Although expectant mothers can be wary of shopping online for maternity dresses, unsure about their size and worried about returns if it doesn't fit, online stores have made it easier than ever to find the perfect dress. Online stores like the ones listed above now offer size guides and have implemented quick and easy exchange and return processes if the dress isn't everything you wanted it to be.
Online shopping can save you money, but we can save you even more! Search our website for ASOS Promo Code and Zalora Promo Code from the coupon code section of our website to access incredible savings on your maternity dress purchase.